Teenage Mutant Ninja Turtle Cookies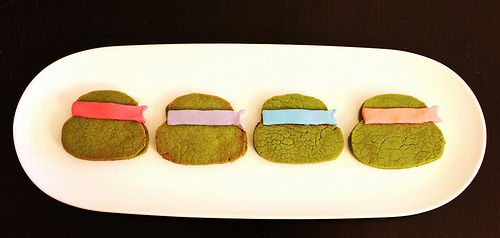 "Teenage Mutant Ninja Turtles, turtle power!"
The old-school theme song was all I thought about as I baked these matcha shortbread cookies filled with raspberry jam for a Nickelodean TMNT Website Launch party (website: http://www.nick.com/shows/ninja-turtles)!
The bandannas are made of fondant which I rolled and used gel colors to make the red, blue, purple, and orange. All I did was kneed kneed kneed, add more color, kneed kneed…until I got the color consistency I wanted from those gels. I cut out bands and then pinched them on the sides to create that bandanna effect.
These cookies were a hit! If you're interested in buying these cookies, reach out to me at terry@filledwithsweets.com.